Return and Re-Enact!
Beginning on March 5th, 2020, captains from all factions will be invited to participate in a Featured Event version of this re-enactment of a pivotal military conflict in the histories of both the Federation and the Klingon Empires. While the Event version of the Battle at the Binary Stars TFO is available, Captains may participate daily to earn progress towards brand new Featured Event rewards, as well as earning progress in our next Event Campaign.
Continue reading for full details!
Event Campaign – Part II
This Featured Event will be the first of a series of upcoming Events that will participate in the second installment of our multi-event system known as an Event Campaign. For Event Campaign II, a few changes have been made.
More Events!
Event Campaign II will span a total of FOUR separate Featured Events, spanning the majority of the upcoming year of PC releases. As a result of this increase in length, the requirements for receiving the Campaign Grand Prize have been increased from 2,100 Progress to 2,800 Progress.
More Prizes!
The Grand Prize for Event Campaign II will offer players a choice as to what they receive, between the two following options:
Option 1:
Z-Store Coupon for 100% Off a single Tier-6 Starship
200 Lobi Crystals
Option 2:
This choice is only made once per Account, upon claiming the prize.
The core gameplay of this Event Campaign remains the same as the previous one:  Participate in multiple Events scheduled over the next several months, to earn progress towards an extremely valuable prize. All of the following aspects of this system remain unchanged:
Players may earn 50 Event Campaign Progress for each day they participate in an eligible event.
Buying out an eligible event will include up to 700 Event Campaign Progress.

Each event's buyout only grants as much Event Campaign Progress as is relative to the amount paid, after pro-rated discounts are applied. This means that paying half price, (because you participated in 7 out of 14 of the required days so far) will grant you 350 Event Campaign Progress. Essentially, you get what you pay for.
Console players will see minor adjustments to this when Event Campaign II launches on those platforms. We intend to announce those changes when they are closer to going live. One thing that we can announce now for Console Captains: due to some technical issues, To Hell with Honor will no longer be launching with Legacy on Xbox One and Playstation 4. Battle at the Binary Stars will be in its place, as part of the anniversary event, and it will grant progress towards the anniversary ship. The first Event Campaign on Xbox One and Playstation 4 will be a three week run of To Hell with Honor. More details on that coming soon.
Binary Features
The Event version of the Battle at the Binary Stars TFO will see a few small changes, to account for its placement as a Featured Event.
TFO Rewards include a Choice of All Marks (instead of only including Discovery Marks)
There is no Cooldown – play it as frequently as you like!
Temporarily removed from "Random TFO" selection.
Normal, Advanced, and Elite versions all offer Event Daily Progress upon first completion, once per day per account.
Players must have completed their faction's Tutorial, and chosen a primary Allegiance (if applicable) before being able to participate in the Event version of this content. Advanced and Elite versions also have level requirements of 50 and 60, respectively.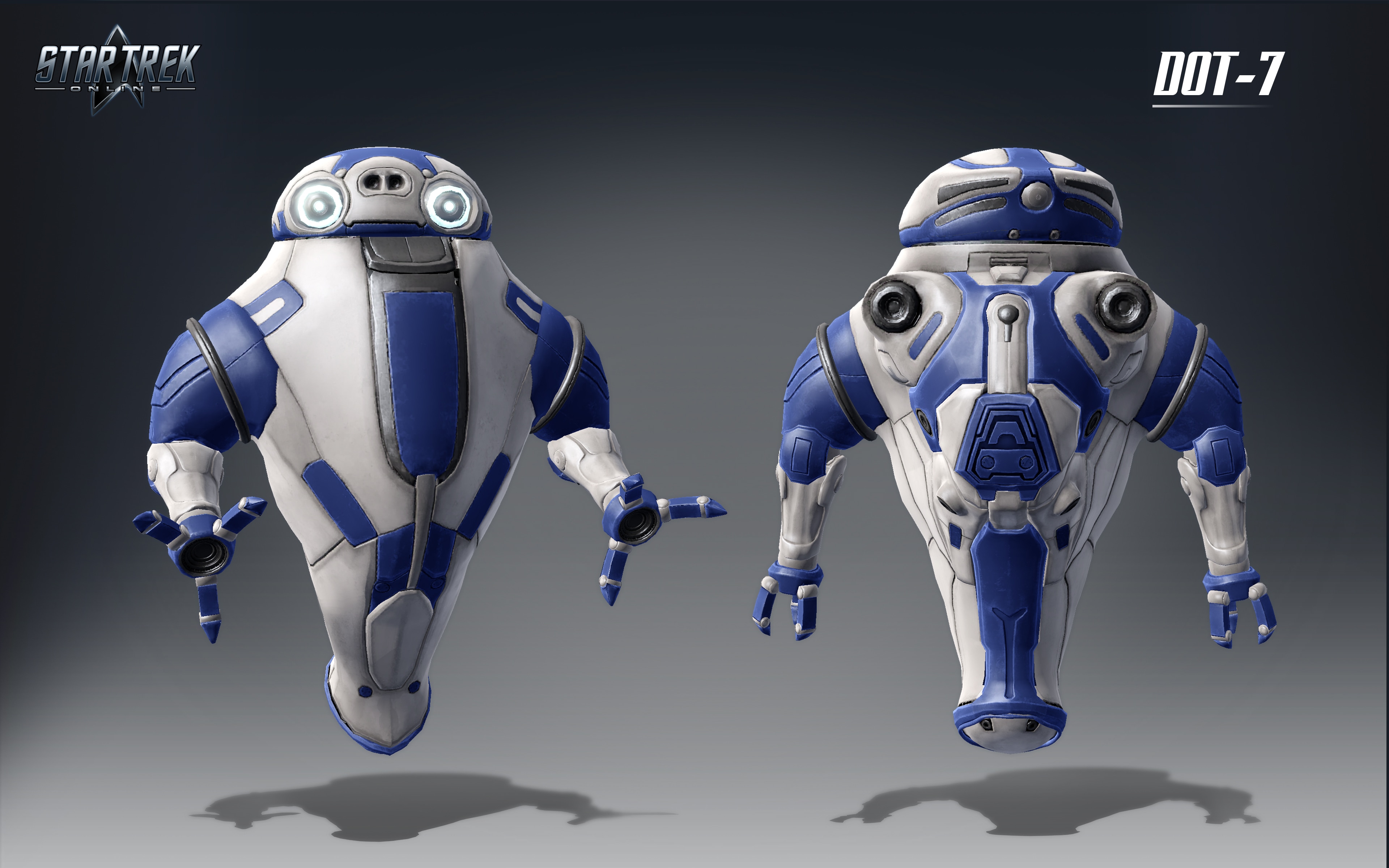 Rewards
Earn a total of 14 days' worth of Daily Progress to become eligible to claim all of these rewards:
Universal Kit Module – DOT-7 Drone Fabrication (and Account-Wide Unlock for Reclaim)
DOT-7 Non-Combat Drone (and Account-Wide Unlock for Reclaim)
25,000 Dilithium Ore (once only)
3x Featured TFO Reward Boxes (once only)

Each gives a choice of 1x Specialization Point or an Enhanced Universal Tech Upgrade
Players may notice that the amount of Dilithium Ore rewarded has been shifted to place a larger focus on Bonus Progress functionality, and we have increased the base rewards for Bonus Rewards.
Now, upon claiming this Grand Prize (whether earned or purchased), your account will immediately become eligible for Bonus Progress. The first Bonus Progress rewarded will be accompanied by a reward of 8,000 Dilithium Ore. Earning Bonus Progress each day thereafter will increase this reward by an additional 1,000, and we have increased the cap on how high this value may scale to a value that is unreachable during this Event (thus effectively unlimited!).
The following table shows an example of how Bonus Progress Rewards are now laid out:
| | |
| --- | --- |
| # of Bonus Days | Dilithium Ore Rewarded |
| 1 | 8,000 |
| 2 | 9,000 |
| 3 | 10,000 |
| 4 | 11,000 |
| 5 | 12,000 |
| (etc.) | (etc.) |
| 42+ | 50,000 |
All Bonus Progress Rewards are rewarded a maximum of once per day, per account, and are immediately and automatically granted to the active character when the requirement is met.
DOT-7 Drones
The charm of the aging Starfleet DOT-7 Drone design is not lost on many modern captains, to the point that replica units utilizing its likeness have become quite popular amid the resurgence of interest in mid-23rd century designs as a whole. Players that completed this Featured Event will be rewarded with two different methods of summoning their own DOT-7 Drones:
Universal Kit Module – DOT-7 Drone Fabrication
Fabricates a DOT-7 Utility Drone that will follow and assist you. It will periodically attempt to cripple the damage resistance, damage output, and/or movement speed of nearby enemies by using Fuse Armor and/or Weapons Malfunction. The DOT-7 is also equipped with an automated repair and support field that enhances the performance and health of nearby electronic allies such as turrets and drones. In case of emergencies, it is also equipped with a fusion welder that can be used as a last line of self-defense against enemies at short range.
DOT-7 Non-Combat Drone (Vanity Pet)
This automated replica is only equipped with the most basic AI subroutines and should be incapable of causing issues even when exposed to hostile technology. It will passively follow its owner, but will retreat if faced with combat.
Obtaining these rewards on any character on your account will unlock the ability to reclaim each of them on other characters, via the Reclaim Store within the Events UI. You may only reclaim this item on characters that do not already own one.
Legacy Progress
This Featured Event will continue to honor Legacy Progress, the same as the last several previous Events.
Availability
Re-live this thrilling confrontation between Starfleet and a warring Klingon Empire alongside your allies once more, when the Battle at the Binary Stars returns to its Featured status once more. Face this challenge with a Vulcan Hello on PC from March 5th, 2020 until March 26th, 2020. Players on Xbox One and PlayStation 4 can look forward to the release of this Featured Event, and the introduction of Event Campaign II, later this year.
Jeremy "BorticusCryptic" Randall
Lead Systems Designer
Cryptic Studios
https://www.arcgames.com/en/games/star-trek-online/news/detail/11377343